Claas Arion 460. Salto di qualità
Siamo sinceri, appena si nomina Claas il primo pensiero corre subito alle blasonate macchine da raccolta made in Harsewinkel. E in questo non c'è niente di male; da sempre il costruttore tedesco ha fatto dell'eccellente tradizione nel comparto delle mietitrebbie e trince il suo cavallo di battaglia. Ma è vero anche che il presente di […]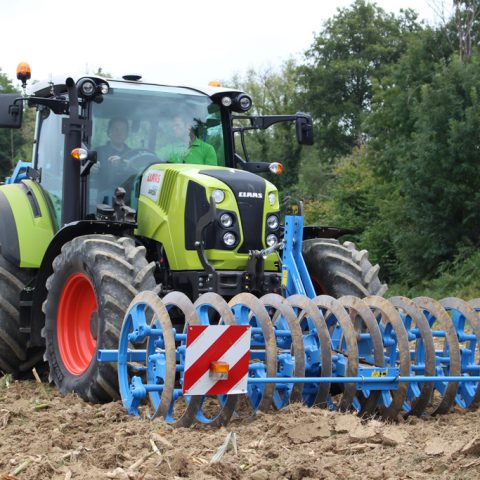 Siamo sinceri, appena si nomina Claas il primo pensiero corre subito alle blasonate macchine da raccolta made in Harsewinkel. E in questo non c'è niente di male; da sempre il costruttore tedesco ha fatto dell'eccellente tradizione nel comparto delle mietitrebbie e trince il suo cavallo di battaglia. Ma è vero anche che il presente di Claas è caratterizzato da un portafoglio di trattori sempre più ampio e innovativo, concepito per offrire il mezzo ideale in ogni segmento di mercato.
Negli anni passati Claas si è concentrata maggiormente nello sviluppo dei trattori di medio-alta e alta potenza, come gli Axion 800 (Tractor of the year in carica) e 900 con cui ha sfidato da subito i connazionali di Markdoberdof. Oggi il costruttore tedesco si è concentrato in modo deciso anche sulle medio-basse potenze, nel range da 90 a 140 cavalli che in Italia rappresenta uno dei segmenti più importanti (se non il più importante) in termini di immatricolazioni.
Ad affrontare di petto questo segmento è la nuova serie Arion 400, profondamente migliorata e allargata a sei modelli rispetto ai tre della precedente omologa serie. I nuovi Arion disponibili sul mercato italiano da ottobre 2014 non sono certo dei tedeschi puro sangue; montano motore Fpt, trasmissione Gima e vengono prodotti o meglio assemblati nello stabilimento francese di Le Mans. D'altronde i trattori Claas ci hanno da sempre abituato a repentini melting pot. I nuovi Arion sono stati concepiti prevedendo numerosi equipaggiamenti, dalle soluzioni più semplici alle più accessoriate ed evolute, per far fronte alle molteplici esigenze operative per cui un trattore di medio-bassa potenza può essere impiegato. Basti pensare che sui nuovi sei modelli è possibile scegliere tra quattro cabine diversamente strutturate e tre impianti idraulici di differente portata.