Farming Simulator 22, a fine novembre è il videogioco più venduto in assoluto su PC
Il simulatore agricolo di GIANTS Software sbanca nel mondo dei videogiochi, superando anche franchise molto più blasonati. Merito di un gameplay frizzante e di un'attenzione certosina ai particolari. E nel frattempo arriva anche un programma di tutorial per i neofiti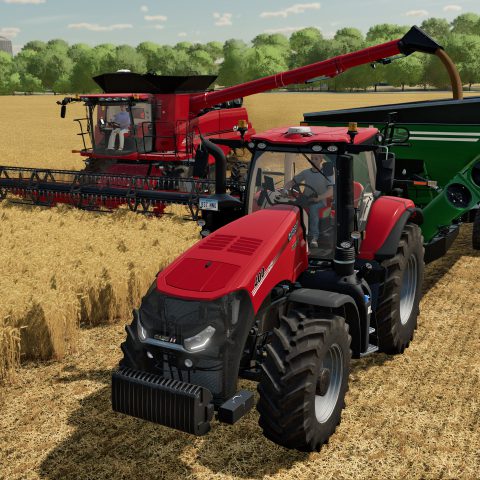 L'agricoltura e le macchine agricole stanno facendo breccia nel cuore di un numero sempre più grande di appassionati, anche non direttamente coinvolti nelle attività di preparazione e lavorazione "sul campo". Potrebbe sembrare un controsenso per un settore votato quasi ed esclusivamente all'operatività e al rapporto a 360° con la terra e i suoi prodotti. Ma nella società 4.0 in cui viviamo, sempre più digitalizzata e interconnessa, è possibile: lo dimostra il successo strepitoso di Farming Simulator 22 che, dopo il lancio brillante del 22 novembre (giorno in cui è approdato su tutte praticamente tutte le piattaforme disponibili), si riconferma il videogioco più venduto dell'ultima settimana di novembre su PC.
Stando infatti ai dati rilasciati da Steam (la piattaforma digitale su cui è disponibile per personal computer), l'ultima incarnazione del videogioco a tema trattori e agricoltura più famoso di settore si è piazzato al primo posto nelle vendite generali, superando franchise molto più blasonati, come Battlefield e Call of Duty, entrambi videogiochi con una nutritissima schiera di utenti, aumentati vertiginosamente nei quasi vent'anni di presenza sul mercato. Ma che non sono bastati a frenare il successo di Farming Simulator 22.
Farming Simulator 22, un'esperienza videoludica dal successo travolgente
In base a quanto pubblicato dal noto analista di mercato Benji-Sales, nella lista dei dieci videogiochi più venduti, dopo Farming Simulator 22 troviamo, rispettivamente, Battlefield 2042, Cyberpunk 2077, Red Dead Redemption 2, Valve Index (il visore per la realtà aumentata della piattaforma), Forza Horizon 5, Horizon Zero Dawn, Red Dead Redemption 2, FIFA 22 e Myth of Empires. Inoltre, se si considera che la maggior parte dei giochi in elenco sono rientrati in classifica grazie alla forte scontistica a cui sono andati incontro durante i cosiddetti "saldi autunnali" di Steam, il successo di Farming Simulator 22 appare ancora più travolgente, essendo una novità presente sul mercato a prezzo pieno.
Ma c'è un altro dato che rimarca la bontà del prodotto e dimostra l'affezione dei fan al simulatore agricolo: su Steam il videogioco ha infatti più giocatori attivi dello sparatutto Battlefield 2042 (sviluppato da DICE e prodotto da EA), negli anni scorsi campione di incassi, con centinaia di migliaia di utenti collegati contemporaneamente su tutte le piattaforme. In base a quanto riportato da SteamDB, un database online contenente tutte le statistiche della piattaforma (dal numero di utenti connessi al numero di ore spese sui singoli giochi), Farming Simulator avrebbe raggiunto un picco massimo di 105.636 utenti superando di poco Battlefield 2042 (105.397 giocatori di picco). Tuttavia, in questo senso, a sorprendere è il numero di utenti attivi nelle ultime 24 ore: se quelli di Battlefield sono stati "solo" 52.524 quelli di Farming Simulator hanno sfondato il tetto dei 94mila (94.744 per essere precisi). Anche se una grossa fetta di giocatori di Battlefield gioca direttamente da un'altra piattaforma rispetto a Steam, ovvero Origin (posseduta direttamente dai produttori EA), quello registrato da Farming Simulator 2022 è comunque un risultato straordinario, che ancora una volta mette in luce l'interesse dei videogiocatori nei confronti di un settore affascinante e complesso.
Gli sviluppatori vicini all'utenza: arrivano i tutorial
Forse, in alcuni casi, fin troppo per i neofiti: ed è proprio per questo che GIANTS Software, gli sviluppatori del videogioco, sono venuti incontro all'utenza con l'iniziativa "Farming Simulator Academy", una serie di video tutorial (quello di presentazione è consultabile all'interno dell'articolo), che verranno costantemente aggiornati, nei quali vengono spiegate le meccaniche di base del simulatore, dalla preparazione del terreno alla gestione dell'operatività aziendale.
Gli utenti che necessitano chiarimenti sulle meccaniche di gioco possono comunque consultare il forum ufficiale (a questo indirizzo), entrare nel canale Discord degli sviluppatori o inviare una mail all'indirizzo fornito community@giants-software.com.
Farming Simulator 22 è disponibile su PC, Mac, PS5, Xbox Series X/S, PS4, Xbox One e Stadia.