FPT, con Fontanafredda e New Holland per la prima vendemmia a zero emissioni. L'accoppiata F28 Natural Gas e TK Methane Power
FPT Industrial ha avviato una nuova collaborazione con una delle realtà vinicole più prestigiose d'Italia, Fontanafredda, per effettuare la prima vendemmia di un cru (francesismo che sta per "vigneto") di Barolo al mondo a emissioni zero e, entro i prossimi anni, arrivare a produrre la prima bottiglia di vino completamente sostenibile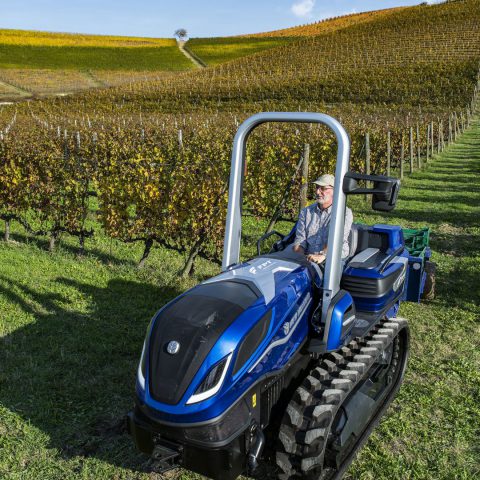 L'F28 di Fpt Industrial, Diesel of the Year 2020, si appresta a tagliare un altro traguardo e, grazie alla partnership con la storica azienda vitivinicola Fontanafredda, renderà presto possibile ciò che fino a poco tempo fa pareva più che altro un auspicio: realizzare la prima vendemmia a emissioni zero. Fulcro centrale del progetto, presentato lo scorso 19 febbraio, è appunto il celebrato F28, installato su due trattori cingolati da vigneto New Holland TK Methane Power, nella sua versione a gas naturale. I mezzi New Holland si prenderanno cura del prezioso cru Vigna La Rosa, dove nasce il Barolo omonimo, nominato nel 2008 uno dei 100 vini migliori del mondo.
L'idea che ha portato al progetto della mobilità sostenibile in vigna s'inserisce in un più ampio scenario improntato alla sostenibilità e al rispetto per l'ambiente che Fontanafredda, gestita nelle Langhe dalla famiglia Farinetti, promuove da anni. Agricoltura biologica, predilezione per i lieviti autoctoni in cantina, riutilizzo dell'acqua, energia pulita per il Villaggio sono solo alcune delle azioni finora intraprese. I trattori alimentati a biometano sono il culmine (finora) del cosiddetto Rinascimento Verde.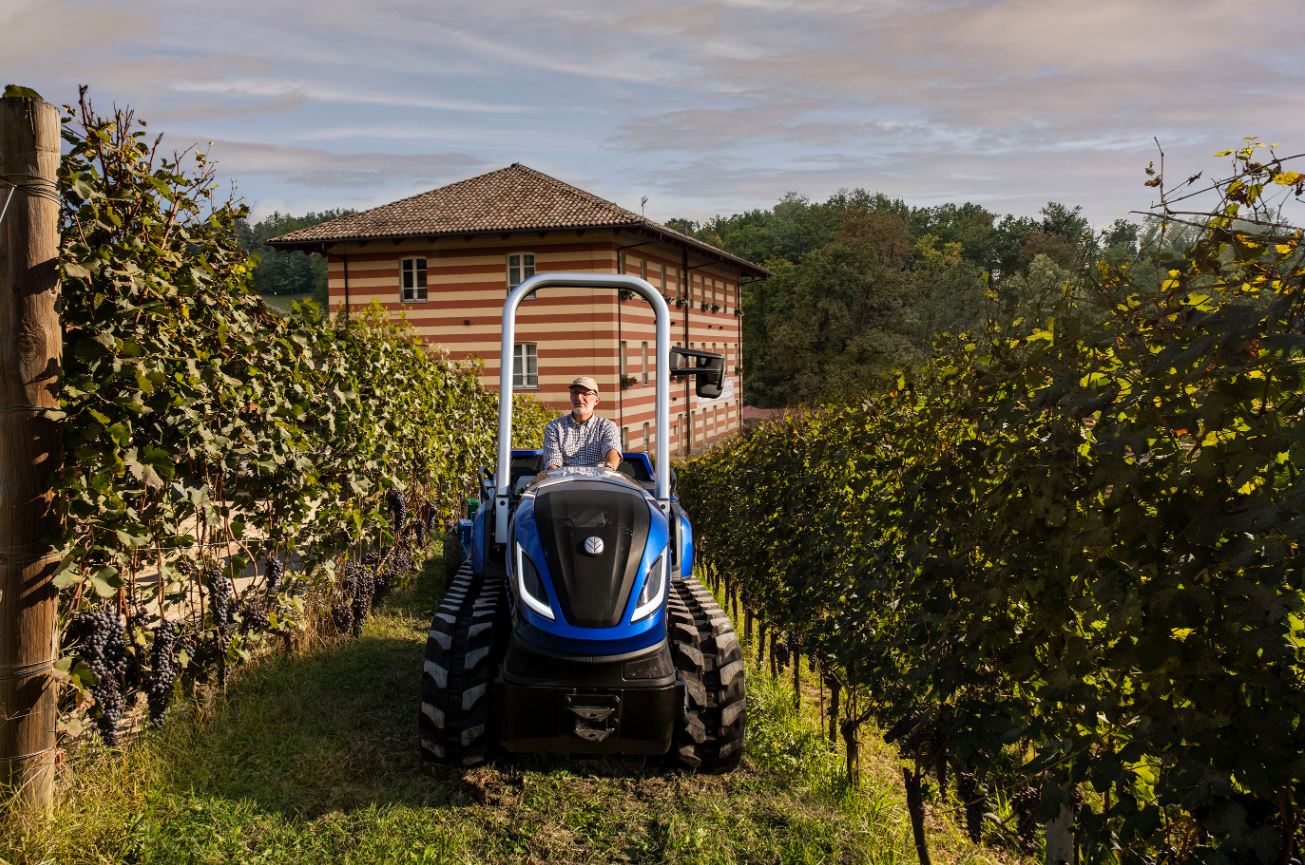 «Il nuovo per noi è rimettere la terra al centro, deve essere il nostro grande obiettivo, che deve portarci alla creazione di una grande comunità mondiale basata sulla fiducia negli altri. I mezzi di questa comunità per la salvaguardia del pianeta saranno molti, il nostro sarà il vino, il vino verde. La partnership con Fpt Industrial dimostra che insieme si può fare di più e meglio». Parole di Andrea Farinetti, che ha precisato anche come il biometano non sia generato dagli scarti di lavorazione in azienda, ma provenga comunque da una filiera sicura e certificata. L'obiettivo è avere a disposizione un'intera flotta 'decarbonizzata' nel giro di 3-5 anni.
Stupenengo (FPT): il gas naturale è la soluzione di oggi
«Cimentarci in un settore così prestigioso e delicato come la viticultura sostenibile di altissima qualità è una sfida che abbiamo raccolto con grande entusiasmo. La partnership con Fontanafredda ci darà infatti il modo di dimostrare, una volta di più, il nostro pieno sostegno all'Unione Europea di guidare la transizione verde. I nostri motori a biometano sono efficienti e performanti alla pari di quelli diesel, e questo combustibile rinnovabile e sostenibile è la vera alternativa, praticabile ora, per azzerare le emissioni dei veicoli agricoli», ha aggiunto la Ceo di Fpt Industrial, Annalisa Stupenengo, insistendo sul ruolo di game changer da più parti riconosciuto a Fpt anche per via del concept Cursor X. «Il gas naturale è la soluzione di oggi che ci permette di aprire le porte al domani e abbiamo già oltre 55mila propulsori a gas naturale al lavoro in applicazioni concrete».
Biffali: l'F28 di FPT Industrial è nato modulare
Il passaggio successivo è quello dell'utilizzo del biometano, appunto, risultato della lavorazione di scarti agricoli che non costano nulla e che, anzi, sarebbe un costo smaltire. Economia circolare a tutti gli effetti, con prospettive interessanti in termini di sostenibilità ambientale, oltre che economica, per le aziende agricole. «Il nostro F28 è nato modulare ed è un inedito in questa categoria di macchine agricole», spiega Pierpaolo Biffali, Vice President Product Engineering di FPT Industrial. «I prototipi di trattore progettati insieme a New Holland consentono di lavorare in spazi molto stretti con prestazioni e autonomia comparabili a una motorizzazione tradizionale».
A chi chiede da dove nasca la scelta di puntare sul biometano e non, per esempio, su soluzioni elettriche, Biffali risponde che le batterie, pure ritenute un elemento chiave della transizione ecologica, in un caso del genere non garantirebbero un'autonomia sufficiente ai viticoltori. Quella del biometano, insomma, appare come una soluzione 'ready now' e più sostenibile nel breve termine proprio per le implicazioni virtuose nel ciclo agricolo.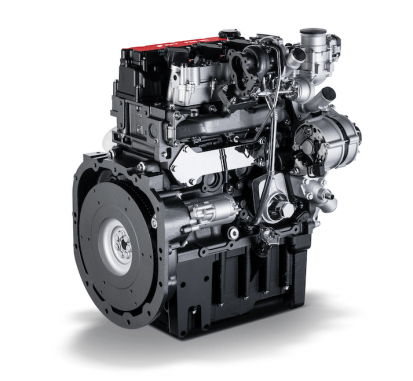 L'F28 NG a biometano: 55 chilowatt di potenza
Passando a questioni più tecniche, i motori F28 NG da 4 cilindri e 2,8 litri di cilindrata, destinati a equipaggiare i trattori cingolati New Holland per Fontanafredda, erogheranno una potenza massima di 55 chilowatt per una coppia massima di 330 Nm e potranno contare su combustione stechiometrica e iniezione multi-point. Via l'Egr, presenta un catalizzatore a 3 vie e si sgrava da ulteriori oneri di manutenzione, essendo privo di Dpf e Scr. A tutto vantaggio della compattezza e quindi della capacità di affrontare terreni impervi e filari particolarmente stretti.