Tony 11700V, c'è un nuovo top di gamma tra gli specializzati di Antonio Carraro
Un viticoltore nato, da 110 cavalli di potenza: è il Tony 11700V che si candida al titolo di Best of Specialized 2024 grazie a dimensioni compatte, ergonomia e un impianto idraulico che permette un'infinità di configurazioni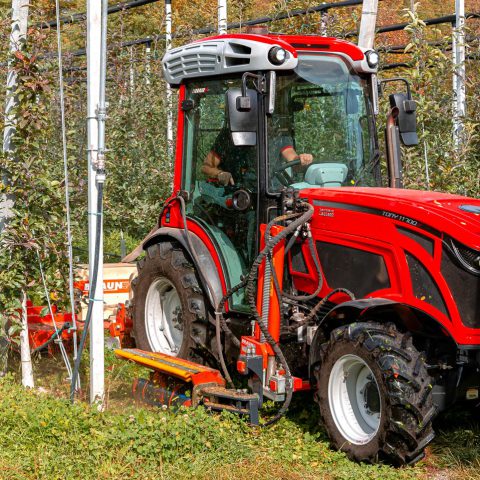 C'è anche Antonio Carraro tra i finalisti del Tractor of the Year 2024 in lizza per il titolo di Best of Specialized. La notizia in sè non dovrebbe sorprendere, se non per il fatto che il costruttore veneto ha ottenuto la nomination non con uno dei tanti modelli isodiametrici che lo hanno reso famoso, vero e proprio marchio di fabbrica, ma con un trattore a telaio convenzionale, cioè a ruote differenziate.
Il finalista in oggetto è infatti il nuovissimo Tony 11700V, che insieme al fratellino minore Tony 8700V, presentato in anteprima già all'Eima del 2021, forma la serie da vigneto per gli impieghi più altamente professionali. È equipaggiabile con ruote anteriori da 16 pollici (200/70 o 260/70), e posteriori da 20 pollici (250/85 o 420/65), a guida monodirezionale.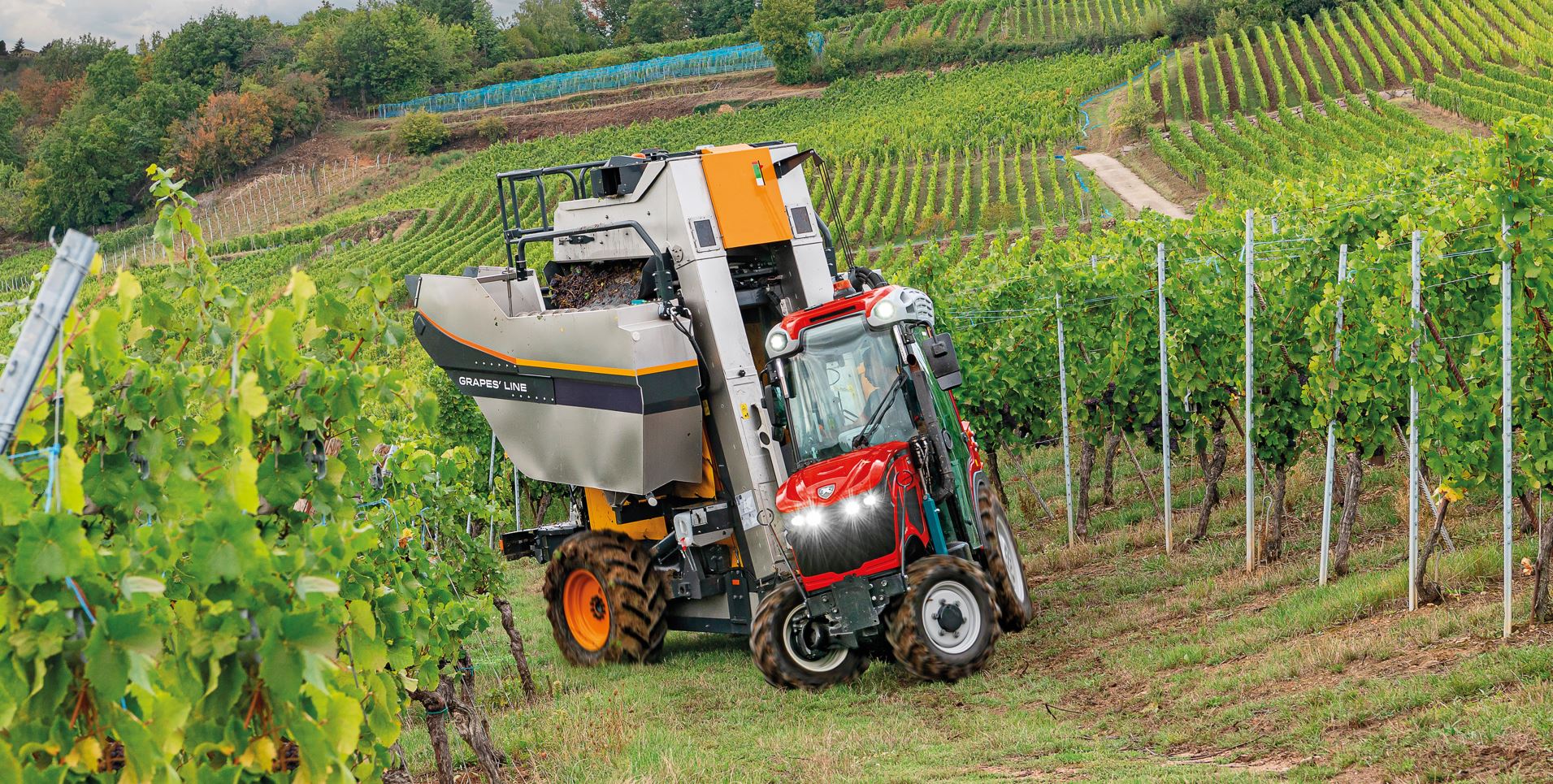 Dotato di cabina, il Tony 11700V ha dimensioni estremamente compatte, che si sposano con elevata potenza e un impianto idraulico ad alte prestazioni, per poter lavorare con più attrezzature combinate anche tra i filari più stretti dei vigneti più pregiati dove manovrabilità e precisione di traiettoria sono determinanti.
Il numero 700 nella sigla identifica il motore Deutz, nella fattispecie il piccolo 4 cilindri TCD 2.9 da 2,9 litri capace di erogare 110 cavalli di potenza massima a 2.000 giri e 420 Nm di coppia a 1.600. Omologato Stage V ha SCR e DPF posizionati sotto al cofano e con la trasmissione Tony a va variazione continua della velocità promette grande produttività e versatilità d'impiego.
Potrebbe interessarti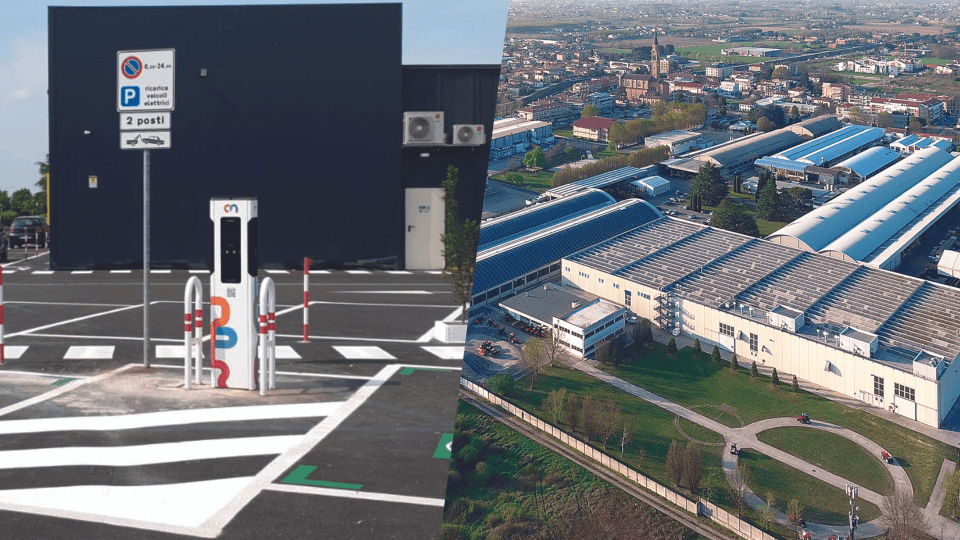 Trattori e mobilità elettrica: un binomio possibile? La risposta non può che essere affermativa a giudicare dai risultati ottenuti dal progetto di On Charge (nome esteso: 'On Electric Charge Mobility srl'), start-up romana specializzata nelle strategie per l'elettrificazione, suppo…
Tony 11700V, ci sono anche le funzioni intelligenti
La trasmissione utilizza un gruppo idrostatico combinato con un cambio meccanico robotizzato con tecnologia SIM (Shift In Motion), che permette di variare in continuo la velocità all'interno di 4 gamme meccaniche controllate elettronicamente, da 100 metri all'ora fino a 40 chilometri all'ora. Tramite il sistema operativo ITAC (Intelligent Tractor AC) l'operatore può gestire diverse funzioni automatiche e mantenere i parametri impostati durante le lavorazioni, anche in situazioni di cambio di pendenza, salita o discesa.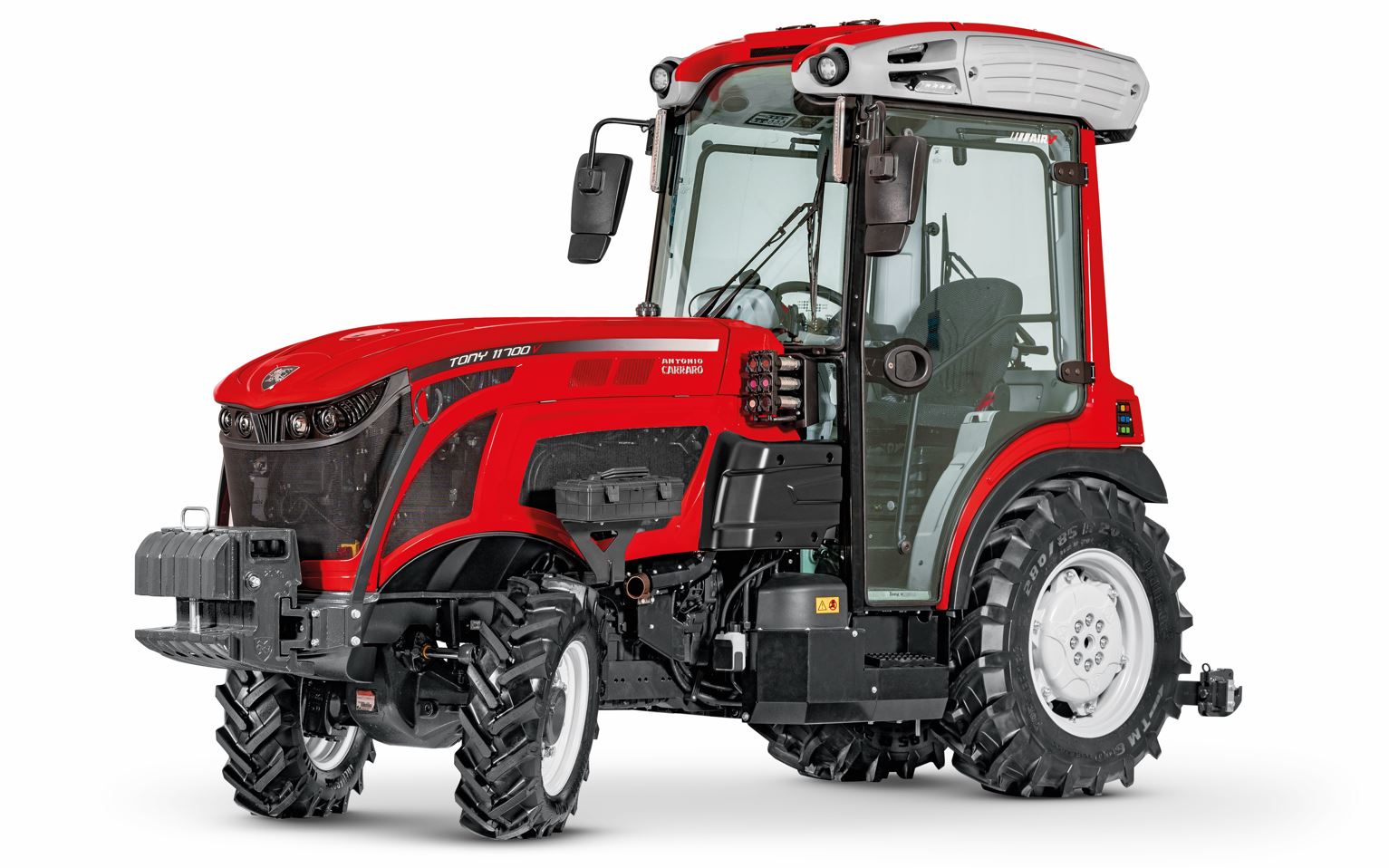 Tutte le personalizzazioni possono essere memorizzate e richiamate quando necessario apportando eventuali modifiche durante le diverse fasi di lavoro in base alle variazioni del terreno e al tipo di coltivazione. La velocità di avanzamento è indipendente dal numero di giri del motore, e entrambi i parametri possono essere programmabili separatamente.
Il sistema idraulico è costituito da tre circuiti separati, uno completamente indipendente per la trasmissione, in modo da evitare possibili contaminazioni, uno per idroguida e sollevatori, e uno con pompa idraulica variabile a pistoni da 90 l/min per i distributori. Questi due circuiti possono essere sommati per portare la portata a 137 l/min. I distributori ausiliari possono essere fino a 4 posteriori e 5 ventrali, disposti su entrambi i lati del trattore.
Il sollevatore posteriore a controllo elettronico ha una capacità massima di 2.700 chili. In optional anche quello anteriore di categoria 1 con capacità di 1.200 chili. Altro punto di forza del Tony 11700V è la cabina Air V, la più tecnologica e accessoriata di tutta la gamma Antonio Carraro. Sospesa su silent block ha il baricentro ribassato e un tunnel centrale appena accennato (8 centimetri di altezza) per garantire un agevole accesso a bordo e un assetto comodo. Dotata di 4 montanti e di parabrezza anteriore esteso sul tetto, è omologata Fops e Rops e disponibile pressurizzata in Cat. 2 o 4. Tutti i fanali per la circolazione stradale sono a led, e glispecchietti retrovisori sono a regolazione elettrica.