Trattori e caffè: un binomio possibile. CNH Industrial mette in mostra i progetti
Avviata una collaborazione con Lavazza. Al centro i progetti elaborati dagli studenti del Master in Transportation Design dello IED, che saranno esposti alla Nuvola Lavazza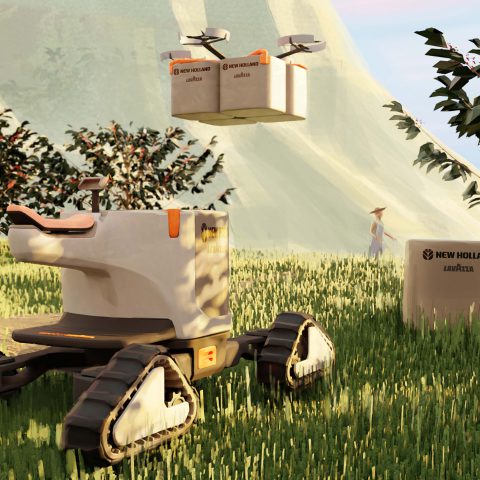 Una coppia strana, ma con più affinità di quanto possa sembrare all'apparenza: stiamo parlando dei trattori e del caffè, un binomio non così frequente alle latitudini europee (considerando che la quasi totalità delle coltivazioni si trova nelle zone equatoriali, Sud America e Sud-Est Asiatico in primis) ma che ora, grazie alla collaborazione avviata tra CNH Industrial e Lavazza Group, è diventato realtà. Al centro della collaborazione una serie di progetti elaborati dagli studenti del Master in Transportation Design dello IED (Istituto Europeo di Design) che indagano il futuro della raccolta del caffè e della sua sostenibilità. Si tratta, in sostanza, di rendering di trattori, macchinari e attrezzi agricoli dalle linee futuristiche, in grado di anticipare le possibile tendenze che nei prossimi anni interesseranno il design dell'agromeccanica.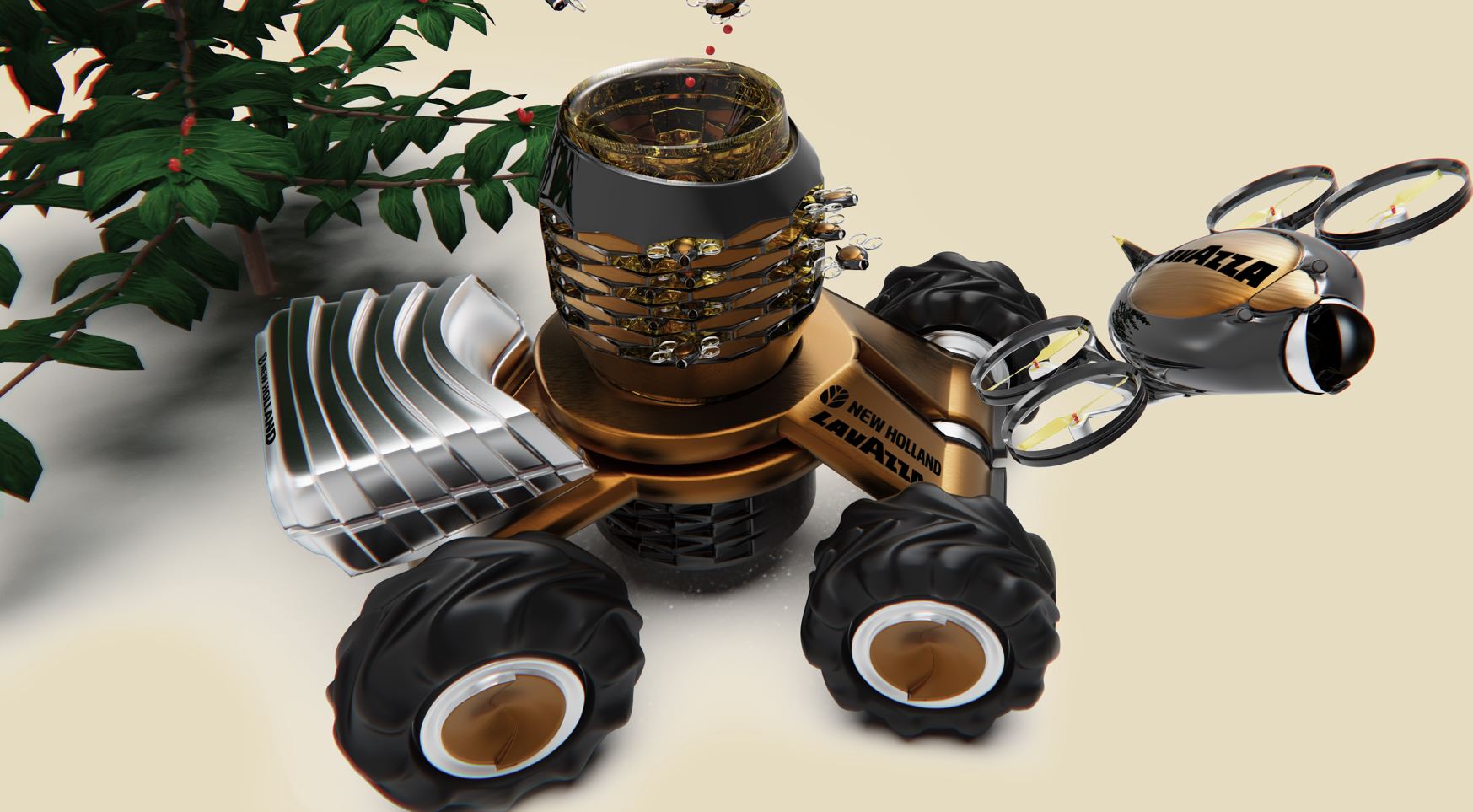 CNH Industrial: il futuro dell'agromeccanica passa anche dal caffè
Questi progetti sono esposti dal 16 gennaio fino al 13 febbraio presso la Nuvola Lavazza di Torino, il quartier generale dello storico marchio torinese di caffè famoso in tutto il mondo. La mostra si intitola "A New Era of Coffee Harvesting" ed è stata allestita nell'atrio della Nuvola Lavazza, espone i sei render di advanced design dei diciotto studenti che, suddivisi in sei team e sotto la guida di David Wilkie e Guido Bianco di CNH Industrial Design e di Florian Seidl, Design Manager Lavazza Group, hanno approcciato la raccolta semi-industriale del caffè, analizzando i vincoli e le potenzialità delle coltivazioni di dimensione ridotta, che hanno a che fare con altitudini e pendenze notevoli.
«Il progetto – ha sottolineato Florian Seidl, Design Manager Lavazza Group – ha rappresentato una bellissima opportunità di confronto che, attraverso l'ampio ventaglio di spunti e idee, ci ha permesso di allargare lo sguardo verso nuove e inaspettate prospettive. Scoprire come gli studenti hanno saputo esplorare e affrontare le necessità, che via via si sono presentate nel contesto della raccolta di caffè, è stata un'esperienza fantastica e motivo di nuove ispirazioni».
«Il Design Center di CNH Industrial, insieme a quello di Lavazza, ha collaborato con l'Istituto Europeo di Design per dare agli studenti l'opportunità di scoprire il mondo industriale della raccolta del caffè – queste le parole di David Wilkie, Head of Industrial Design di CNH Industrial, che ha aggiunto: I giovani studenti sono la chiave del futuro e sono aperti alle nuove tecnologie. Possono, quindi, produrre nuove idee fuori dagli schemi, così come hanno fatto i designer IED con le loro proposte di progetti innovativi per i macchinari impiegati nella raccolta del caffè».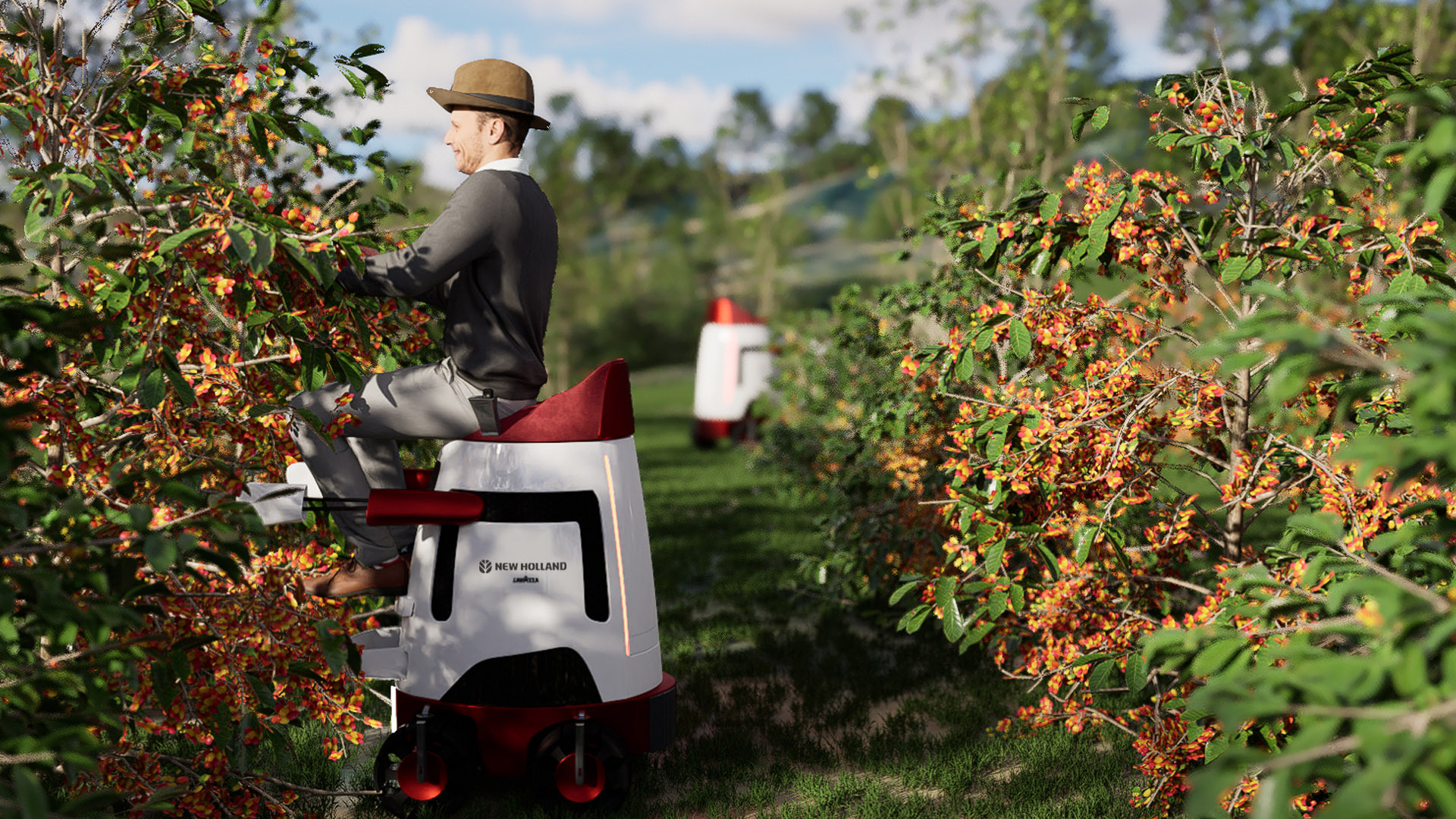 Le proposte vertono sulla destrutturazione di macchinari tecnici di dimensioni ragguardevoli, per adattarli a piantagioni minori; questa tipologia di macchine produce sorprendentemente il 70% della produzione di chicchi di caffè, rispetto a quelle da raccolta tradizionali utilizzate nelle normali piantagioni. Non una semplice operazione di stile su macchinari esistenti, ma una ricerca e una definizione di layout e soluzioni tecniche innovative, così come propulsioni e materiali intelligenti a minore impatto ambientale.
Valori interamente condivisi da New Holland, uno dei brand di CNH Industrial, che ha quindi adottato con entusiasmo l'idea per la creazione del coffee harvester del futuro. «Per realtà consolidate come CNH Industrial e Lavazza, la possibilità di incontrarsi, in un reciproco scambio di conoscenze e necessità, in un ambiente creativo come IED, ha permesso di avere una libera apertura di pensiero per abbracciare la ricerca tecnico-stilistica e formale di nuovi oggetti che guardano al domani, senza dimenticare le origini e la tradizione» ha dichiarato Michele Albera, Coordinatore dell'Area Transportation Design IED Torino.