Le foto di Agritechnica 2015: dai tanto attesi Big, ai misteriosi outsiders
Agritechnica compie trent'anni e festeggia con l'edizione 2015 un nuovo record. La fiera regina d'Europa nel settore della meccanizzazione agricola ha raggiunto quest'anno una quota di 2.900 espositori provenienti da 52 diversi Paesi. Davvero più internazionale che mai. La società organizzatrice DLG stima la presenza di oltre 400.000 visitatori, di cui oltre il 25 per cento […]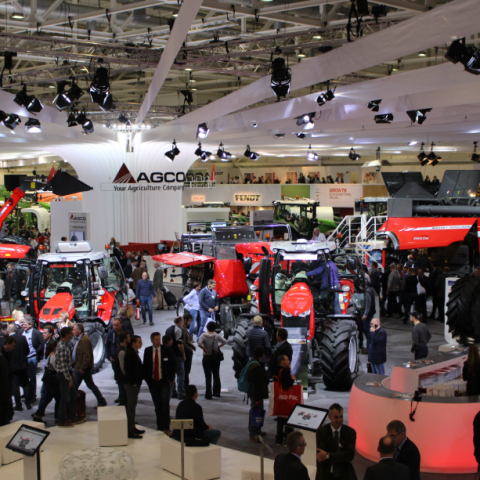 Agritechnica compie trent'anni e festeggia con l'edizione 2015 un nuovo record. La fiera regina d'Europa nel settore della meccanizzazione agricola ha raggiunto quest'anno una quota di 2.900 espositori provenienti da 52 diversi Paesi. Davvero più internazionale che mai. La società organizzatrice DLG stima la presenza di oltre 400.000 visitatori, di cui oltre il 25 per cento proveniente fuori dai confini della Germania.
L'Italia si conferma grande protagonista all'evento di Hannover. Un dato su tutti è emblematico. Delle 1.627 aziende espositrici estere, ben 399 sono italiane. Dopo la Germania padrona di casa, il nostro Paese si conferma di gran lunga il più rappresentato nel superlativo palcoscenico dell'Agritechnica. Secondo espositore estero è rappresentato dai Paesi Bassi, ben staccato con 133 aziende espositrici. Seguono la Turchia, Francia, Cina, Austria, Polonia, Canada, USA, Danimarca, Gran Bretagna, Spagna, Finlandia, India e Svezia.
Sono oltre 300 le novità che gli espositori hanno registrato presso la DLG. Oltre alle medaglie d'oro e d'argento assegnate, il quartiere fieristico di Hannover si è caratterizzato da una costellazione di innovazioni. Non ce ne vogliano i lettori…Impossibile davvero riproporre tutte le novità.
Di seguito vi proponiamo una galleria fotografica dei mezzi che hanno riscontrato tra i visitatori maggior appeal, iniziando da sua Maestà Fendt 1050 Vario incoronato Tractor of the Year 2016 proprio all'apertura di Agritechnica.