Antonio Carraro Mach4 Tony, il quadricingolo a trasmissione idrostatica
Tra i finalisti del Tractor of the Year 2023, nella categoria "Best of Specialized", si presenta in versione cabinata, articolata e reversibile. Impreziosito dalla trasmissione idrostatica, è disponibile in due motorizzazioni, una con 73,2 cv Stage V e un'altra da 96,7 cv Stage 3B per il mercato Italia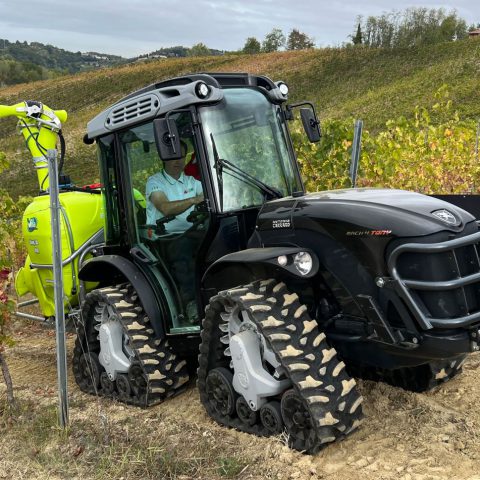 Per far fronte alle esigenze degli operatori che quotidianamente si trovano a lavorare tra i filari di vigneti e frutteti su terreni impervi, Antonio Carraro è sceso in campo con il Mach4 TONY, lo stato dell'arte nel segmento degli specializzati, fresco finalista al Tractor of the Year 2023 nella categoria "Best of Specialized". Messo in bella mostra dal produttore di Campodarsego a EIMA 2022, sia presso lo stand che nel piazzale dello show dal vivo del TOTY 2023, il Mach4 TONY è dotato di 4 cingoli in gomma con una larghezza minima di 1300 mm e vanta caratteristiche di rilievo.
Antonio Carraro Mach4 TONY, come lui nessuno
Non esiste infatti nel panorama trattoristico mondiale una macchina analoga o quantomeno simile. Se già gli isodiametrici o 4X4 rappresentano una nicchia, il Mach 4 è pure articolato e al posto delle ruote ha quattro cingoli indipendenti sempre in presa. Per di più è reversibile ed è dotato di una trasmissione continua. Il tutto corredato da un'elettronica in grado di mettere a disposizione dell'operatore funzioni e automatismi degni di un vero top player.
La sensazione di sicurezza è costante, indipendentemente dalla pendenza dei terreni su cui si lavora. Il merito è ovviamente in gran parte del super grip offerto dai cingoli coadiuvati dal sistema Actio di oscillamento del telaio. Tuttavia, il vero salto di qualità rispetto alla precedente versione con cambio tradizionale è offerto proprio dal cambio 'Tony'. La nuova trasmissione consente infatti di non dover giocare con la frizione evitando pericolosi momenti di folle e soprattutto mantiene in presa la macchina anche senza intervenire sui freni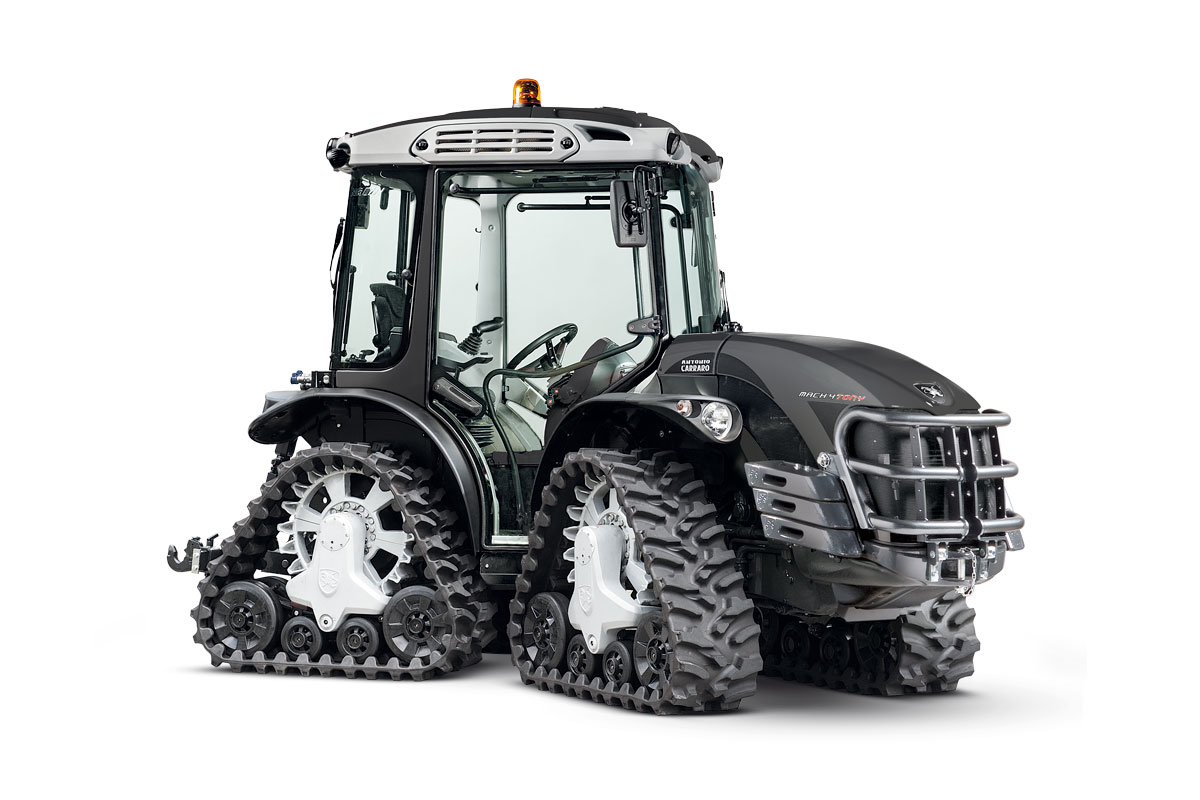 Una centrale operativa tra i filari
Variegata la quantità di automatismi gestiti elettronicamente dal sistema SIM (Shift-In-Motion). Una volta scelto il tipo di avanzamento tra 'Automotive Mode', ideale nei trasferimenti, in cui la pressione sul pedale dell'acceleratore è proporzionale a velocità e giri motore, oppure 'Manual Mode', che permette di fissare i giri motore e regolare la velocità col pedale, utile nelle applicazioni alla Pto, l'operatore può poi selezionare tre stili di guida preimpostati. Sarà dunque l'elettronica di bordo a gestire il regime del motore (Eco o Power) e la velocità massima per ottimizzare prestazioni o consumi a seconda dell'impiego.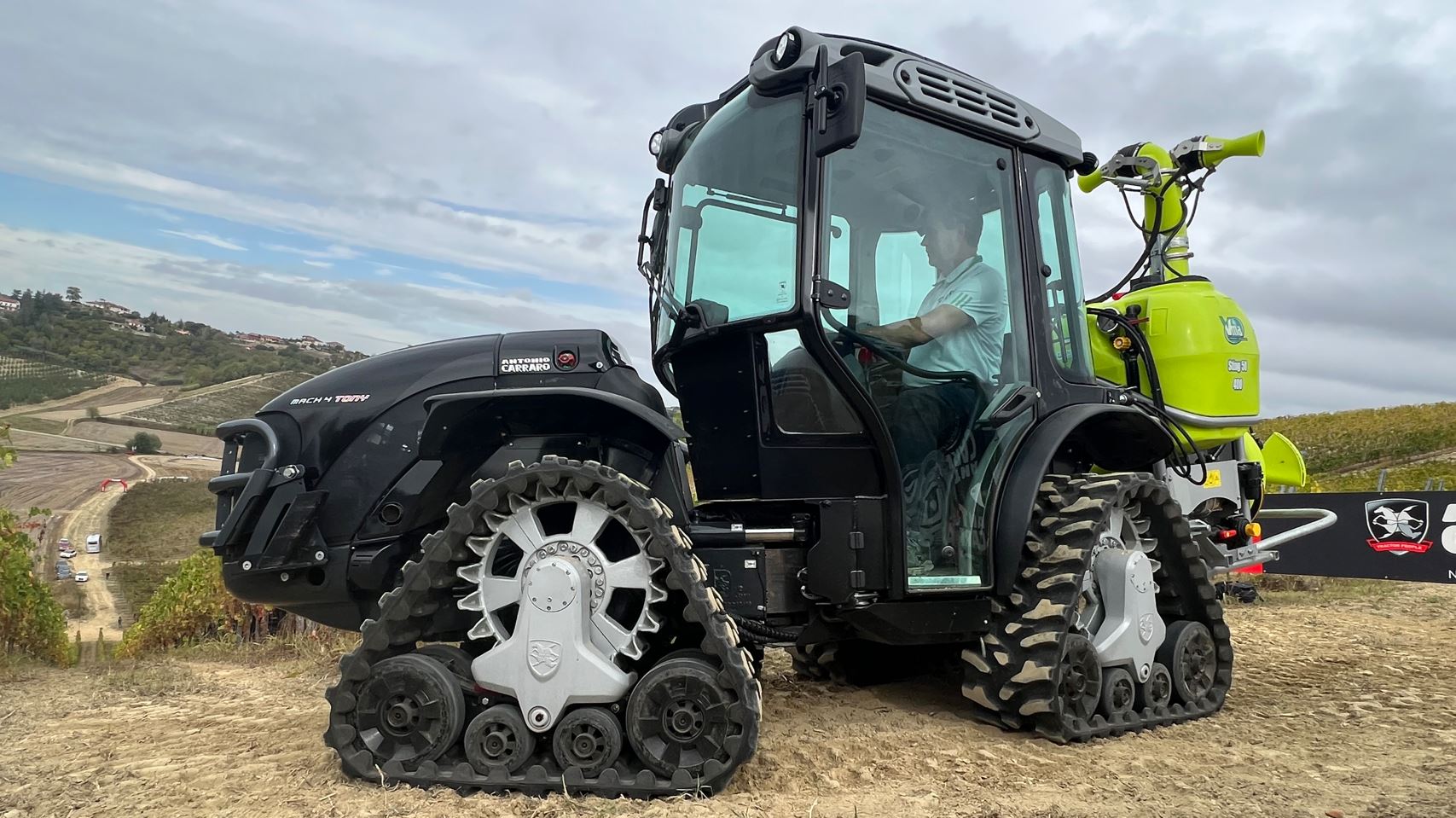 Il comportamento in campo è dunque fluido e ben modulato e consente di sfruttare a dovere i 98 cavalli garantiti dal 4 cilidri Kubota V3800 in versione Stage 3B (deroga concessa all'Italia per questo tipo di trattori). Il propulsore giapponese, estremamente compatto ed efficiente offre un picco di coppia di 330 Nm (33,7 Kgm) a 1.500 giri che assicura la necessaria reattività in qualsiasi condizione operativa. La velocità massima con omologazione stradale (non conferita ai cingolati classici) è di 30 km/h.
Il Mach4 TONY monta la nuova cabina 'Air' omologata Fops e Rops con pressurizzazione Categoria 4 che preserva l'operatore dalle inalazioni nocive di polveri e aerosol. Tutte le regolazioni relative alla climatizzazione e alla pressurizzazione sono installate nel tetto dove trovano posto ben 10 bocchette d'aria tra ricircolo, flusso e disappannamento. L'abitacolo è progettato per armonizzarsi col resto della macchina lasciando il minimo appiglio alla vegetazione e allo stesso tempo garantendo i massimi requisiti in termini di comfort e visibilità.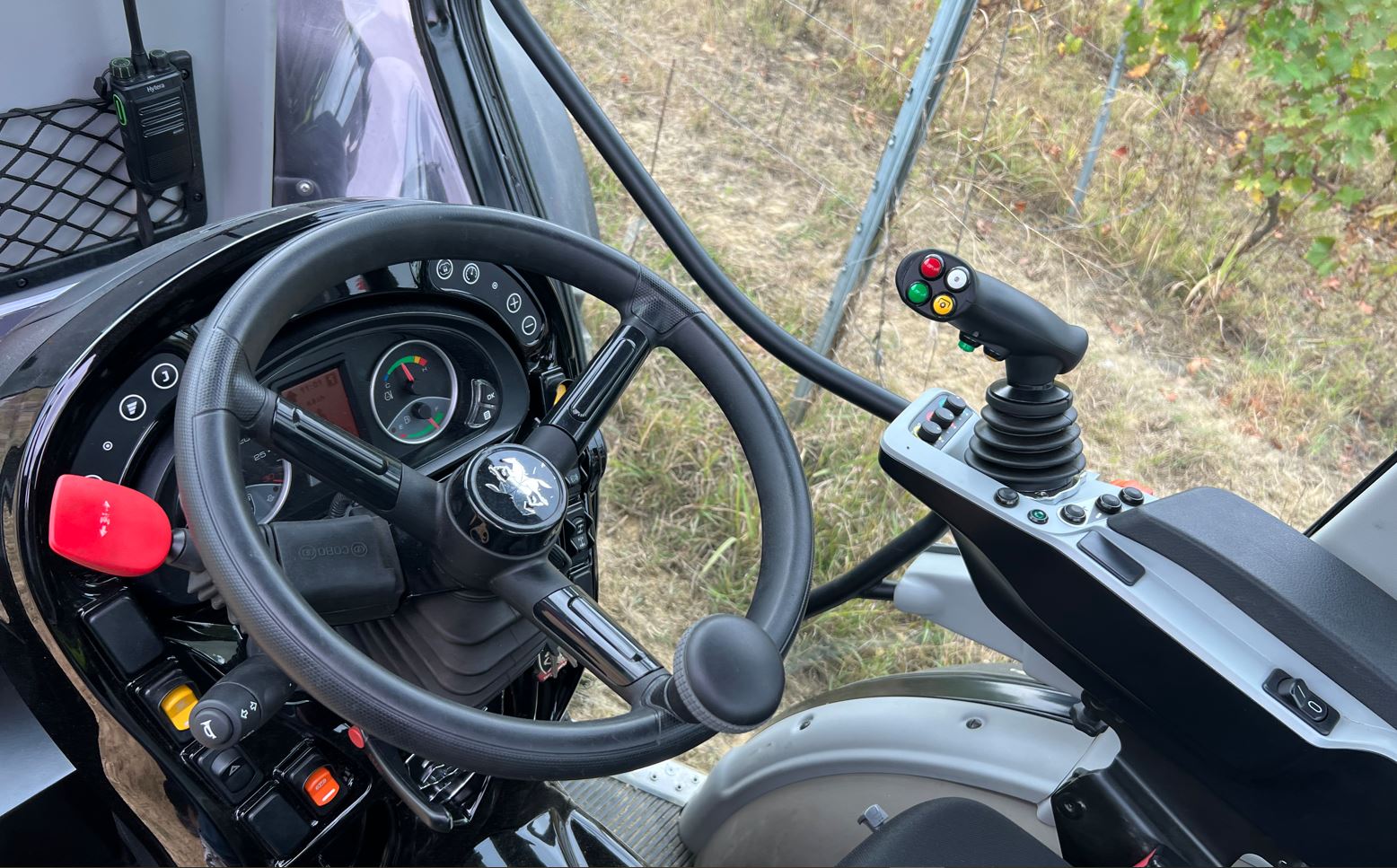 Tra i plus della cabina vanno menzionati il sistema di reversibilità, pratico e semplice da eseguire in pochi secondi, e il raggruppamento della maggior parte dei comandi sul bracciolo di destra con all'estremità l'ergonomico joystick multifunzione che consente di gestire simultaneamente il cambio di direzione, l'alza/abbassa del sollevatore e alcune funzioni idrauliche.