Case IH. Il Magnum 380 Cvx è il Tractor of the Year 2015
Lo scettro di trattore dell'anno si è colorato di rosso; dopo quattordici anni dal suo ultimo successo Case torna sul gradino più alto del podio nel prestigioso concorso Tractor of the Year. Nella suggestiva cornice di Eima 2014, la giuria internazionale composta da 23 giornalisti provenienti da tutta Europa in rappresentanza delle più autorevoli testate di settore […]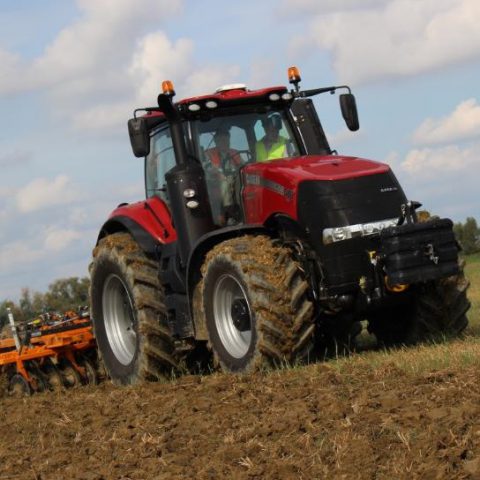 Lo scettro di trattore dell'anno si è colorato di rosso; dopo quattordici anni dal suo ultimo successo Case torna sul gradino più alto del podio nel prestigioso concorso Tractor of the Year. Nella suggestiva cornice di Eima 2014, la giuria internazionale composta da 23 giornalisti provenienti da tutta Europa in rappresentanza delle più autorevoli testate di settore del Continente ha infatti incoronato il nuovo Magnum 380 Cvx. Si tratta del modello di punta di una serie profondamente migliorata ed allargata. Ora in Magnum sono quattro: il 280, il 310, il 340 e il 380. I primi sono disponibili sia con trasmissione full powershift (Fps) che a variazione continua (Cvx); il 380 invece è disponibile esclusivamente come Cvx. Le potenze nominali corrispondono alle sigle, mentre quelle massime in Epm spaziano da 320 a 435 cavalli. Di seguito concentriamo la nostra attenzione sul top di gamma, vincitore del titolo Tractor of  the Year 2015.
Motore Fpt Cursor 9: un'anima autoritaria
Il nuovo propulsore del 380 è un Fpt Cursor 9 da 8,7 litri erogante 379 cavalli al regime nominale di 2.000 giri. A 1.800 giri si ottiene la potenza massima di 417 cavalli che diventano come precedentemente accennato 435 in Epm. La coppia massima corrisponde a 188,5 chilogrammetri, valore di assoluto rilievo. Il Cursor è emessionato allo stadio finale grazie alla tecnologia Hi-eScr, che consiste nel post-trattamento con urea con l'aggiunta del dispositivo Doc. Per sfruttare al meglio le doti del motore è stato installato il turbocompressore a geometria variabile "eVgt" (electronic Variable geometry turbine). Su campo tutto questo si traduce in prestazioni al top. Buona l'accessibilità al propulsore grazie al cofano ribaltabile e facile il rifornimento dei due serbatoi: uno da 617 litri per il carburante e uno da 99 litri per l'urea.
Solo in versione con cambio continuo
Il Magnum 380 è disponibile solamente con la trasmissione a variazione continua, scelta a nostro avviso corretta in quanto rende il grosso mezzo più facile da condurre grazie alle diverse modalità di utilizzo, tutte semplici ed intuitive. Una volta al volante si apprezza la facilità di gestione della trasmissione tramite la leva Multicontroller e l'inversore al volante che ospita anche la funzione Parking che blocca il mezzo anche in forti pendenze e agevola le ripartenze. Questa trasmissione, nelle applicazioni speciali che richiedono velocità basse, assicura un rendimento massimo con consumi minimi e il sistema Apm calibra automaticamente il regime del motore alla potenza richiesta.
Campione in tutti i campi
Come tutti gli altri nuovi Magnum, il 380 ha beneficiato di diversi miglioramenti per quanto riguarda il comfort, gli automatismi elettronici, le connessioni satellitari, l'idraulica e quant'altro. Il sistema idraulico a centro chiuso con sensore di carico è caratterizzato da una pompa a pistoni assiali a portata variabile da 221 litri al minuto. Distributore prioritario da 38 litri per lo sterzo. Fino a un massimo di cinque distributori elettroidraulici regolabili come mandata e tempo di attuazione. Il sollevatore elettronico posteriore standard ha una capacità di 10.200 chilogrammi.
La cabina, un vero e proprio salotto
La cabina sospesa Surveyor da 3,1 metri cubi rappresenta una soluzione centrata per aumentare il comfort dell'operatore. L'abitacolo è un vero e proprio salotto, pavimento piano, sedile a sospensione pneumatica con tutte le regolazioni immaginabili, radio con bluetooth e via dicendo. Ottima la visibilità all'esterno grazie alla grande superficie vetrata (6,4 metri quadrati) e alla strumentazione sul montante anteriore destro. Il bracciolo di guida a regolazione elettrica presenta leva multifunzione cromata, monitor touch screen compatibile Isobus e pannello di controllo integrato. Sul top di gamma è ovviamente disponibile tutta la tecnologia satellitare Afs di Case IH, dai sistemi di guida automatica alle combinazioni di sistemi di posizionamento e tecnologia cellulare per inviare e ricevere informazioni sul funzionamento e sulle prestazioni della macchina. In definitiva il Magnum 380 CVX è potente ma facile da condurre, il comfort è ai massimi livelli. Sarà disponibile dalla seconda metà del 2015, e per allora sapremo gli allestimenti previsti per l'Italia e i relativi prezzi.