John Deere 8520, fatevi sotto. L'eccellenza nelle alte potenze: era il 2002
Nel 2002 John Deere rinnovò la gamma degli 'over 200' con una serie migliorata in molti componenti e dotata di propulsori inediti. L'8520, al tempo, era il più potente. Del tutto meritato il titolo di Tractor of the Year 2002 conquistato all'Agribex di Bruxelles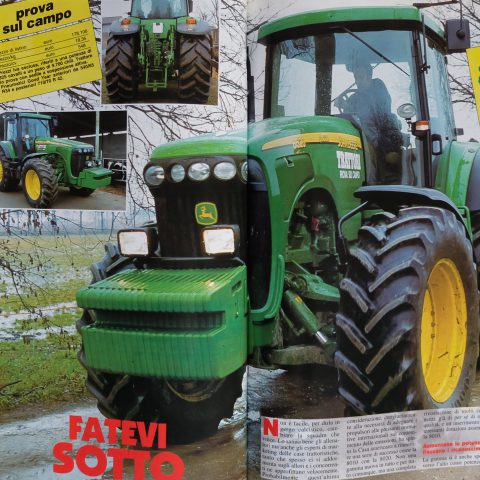 John Deere 8520. Non è facile, per dirla in gergo calcistico, cambiare la squadra che vince. Lo sanno bene gli allenatori ma anche gli esperti di marketing delle case trattoristiche, tanto che spesso ci si addormenta sugli allori e i concorrenti ne approfittano velocemente. Probabilmente fu questa considerazione, combinata alle impellenti necessità di adeguamento alle normative sulle emissioni, che spinsero la Casa americana a rinnovare una serie di successo come la 8010 e la 8020. Non una gamma nuova in tuto e per tutto comunque, ma completa rivisitazione di molti componenti, già di per sè di elevata qualità, e un inserimento di interessanti dotazioni assenti sulla 8010.
La serie 8020, dal lancio in poi, aveva già vinto parecchi premi per l'innovazione tecnologica, fino ad aggiudicarsi con pieno merito il più ambito, ovvero il riconoscimento di "Tractor of the Year 2002", ottenuto all'Agribex di Bruxelles. Un vero e proprio trionfo accompagnato anche dalla palma di "Golden Tractor", che identificava il miglior design. Fu decisiva la linea del cofano ribaltabile molto più armonica e moderna di quello montato sulla versione precedente, che contribuiva ad allineare l'8520 ai canoni estetici che da tempo caratterizzavano le linee di trattori e macchine operatrici.
John Deere 8520, la meccanica. Migliorano comfort e manovrabilità sia in campo sia in fase di trasferimento
La struttura è di tipo misto, col telaio portante per il motore e scatole autoportanti per la trasmissione finale. La caratteristica fisionomia aggressiva dell'8520 è dovuta alla volontà di mantenere un passo nell'ordine dei tre metri per consentire una buona manovrabilità nonostante le dimensioni elevate. Per ottenere ciò, il ponte anteriore era stato collocato sotto il motore in posizione arretrata e il muso sporgeva in avanti. Da un punto di vista di capacità di manovra quadrava tutto, un po' meno invece come capacità di trazione, ad esempio in aratura fuori solco.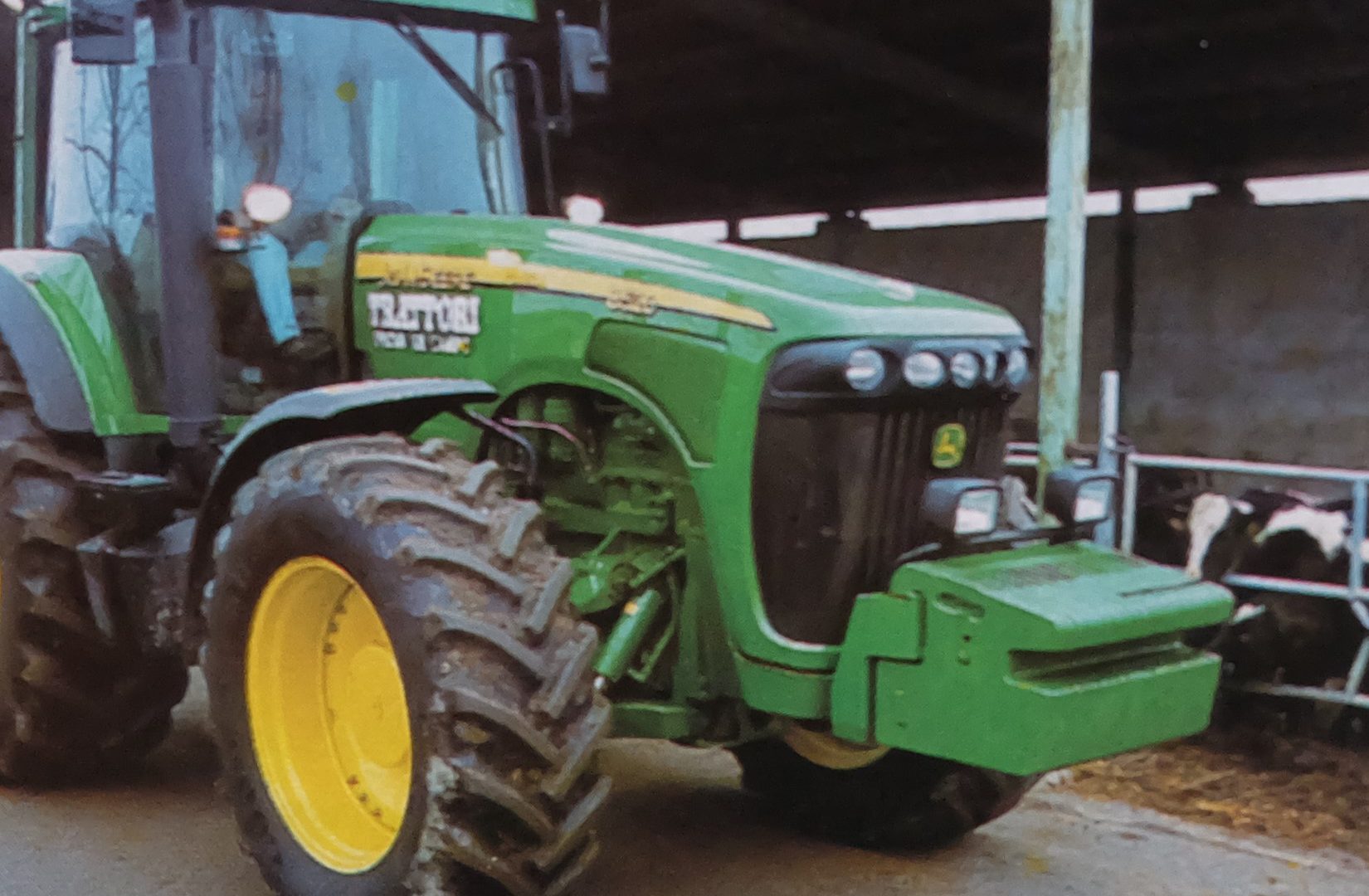 Ribaltando di nuovo il cofano si scopriva un generoso motore Powertech 6 cilindri di 8,1 litri di capacità, turbocompresso, con scambiatore aftercooler aria-aria. La riserva di coppia raggiungeva il 40% e i consumi si attestavano sui 144 grammi per cavallo ora in potenza massima. A proposito di potenza, quella ottenibile al regime nominale di 2.200 giri al minuto era di 295 cv 'Ece R 242, che diventavano ben 325 a 2.000 giri, cioè con un incremento di potenza di 30 cv quando il motore calava di 200 giri. Il serbatoio di 606 litri, che al momento del pieno poteva provocare qualche "infarti", garantiva una buona autonomia ed era ben accessibile in fase di rifornimento. Lo scarico era ovviamente al montante anteriore destro della cabina per non ostacolare la visibilità e il rombo era aggressivo ma mai fastidioso.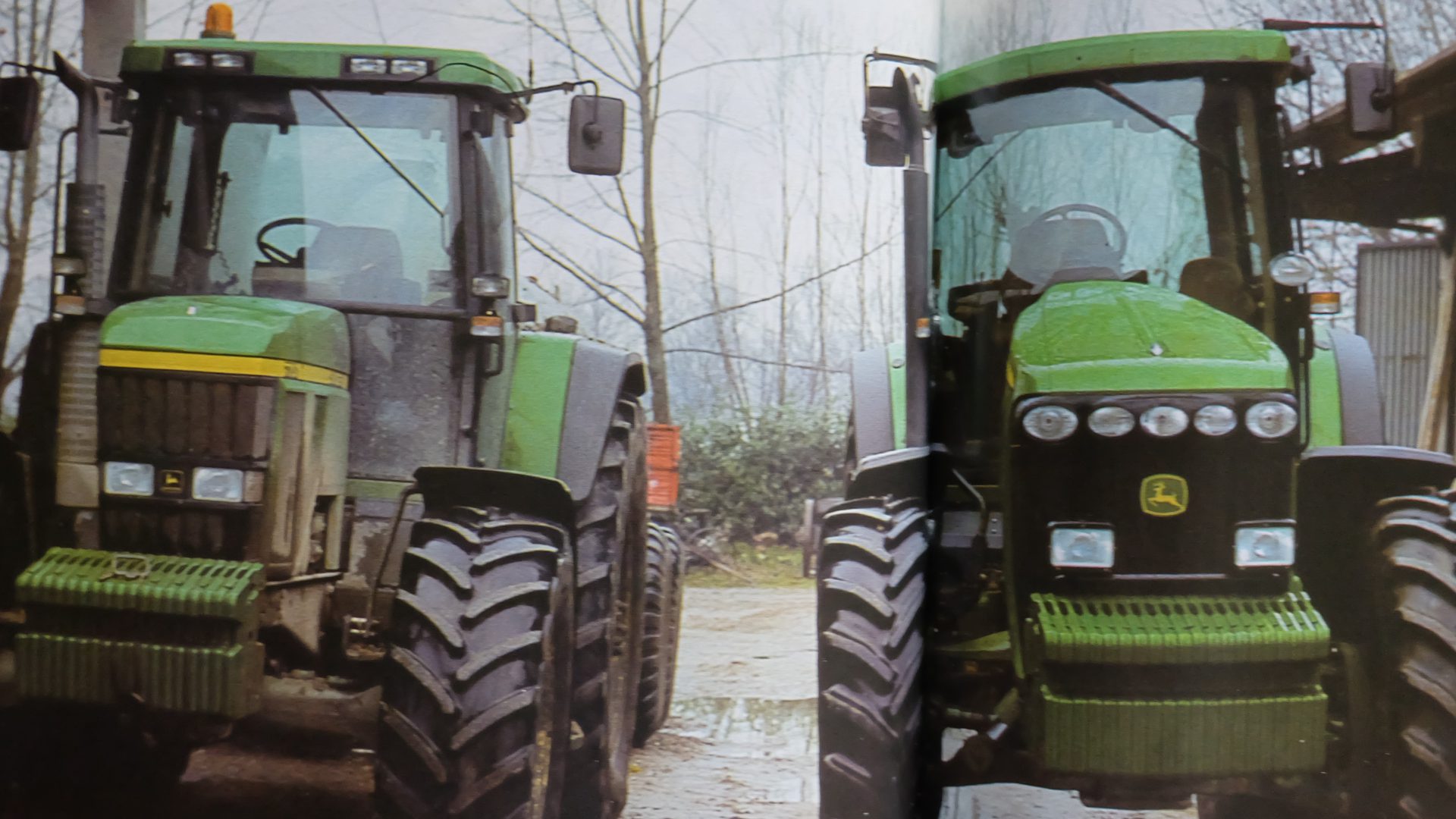 Una catena cinematica al top
La trasmissione che riceveva tutta questa potenza era un classico full power shift arricchito di utili automatismi assenti nella serie precedente. Infatti si poteva usare il cambio in modo manuale con la levetta sul bracciolo 'Command Arm' dotata di tre posizione marce avanti più o meno, retromarce e posizione 'Parking', che bloccava le ruote dell'8520 a motore spento, molto utile su terreni impervi e declivi.
Premendo un pulsante si attivava la funzione 'Automatic Power-Shift' che selezionava autonomamente la marcia giusta scegliendo tra i tre parametri traino, trasporto e presa di forza (per mantenere costante i giri della presa di forza al variare del carico del trattore). Con l'ulteriore possibilità di regolare la velocità nelle svolte di fine campo. Una tecnologia che rispondeva al nome di 'IMS" e consentiva all'operatore di programmare e memorizzare due sequenze di operazioni che poi potevano essere richiamate al momento opportuno premendo un tasto. Tuttavia mancava ancora la disponibilità del superriduttore.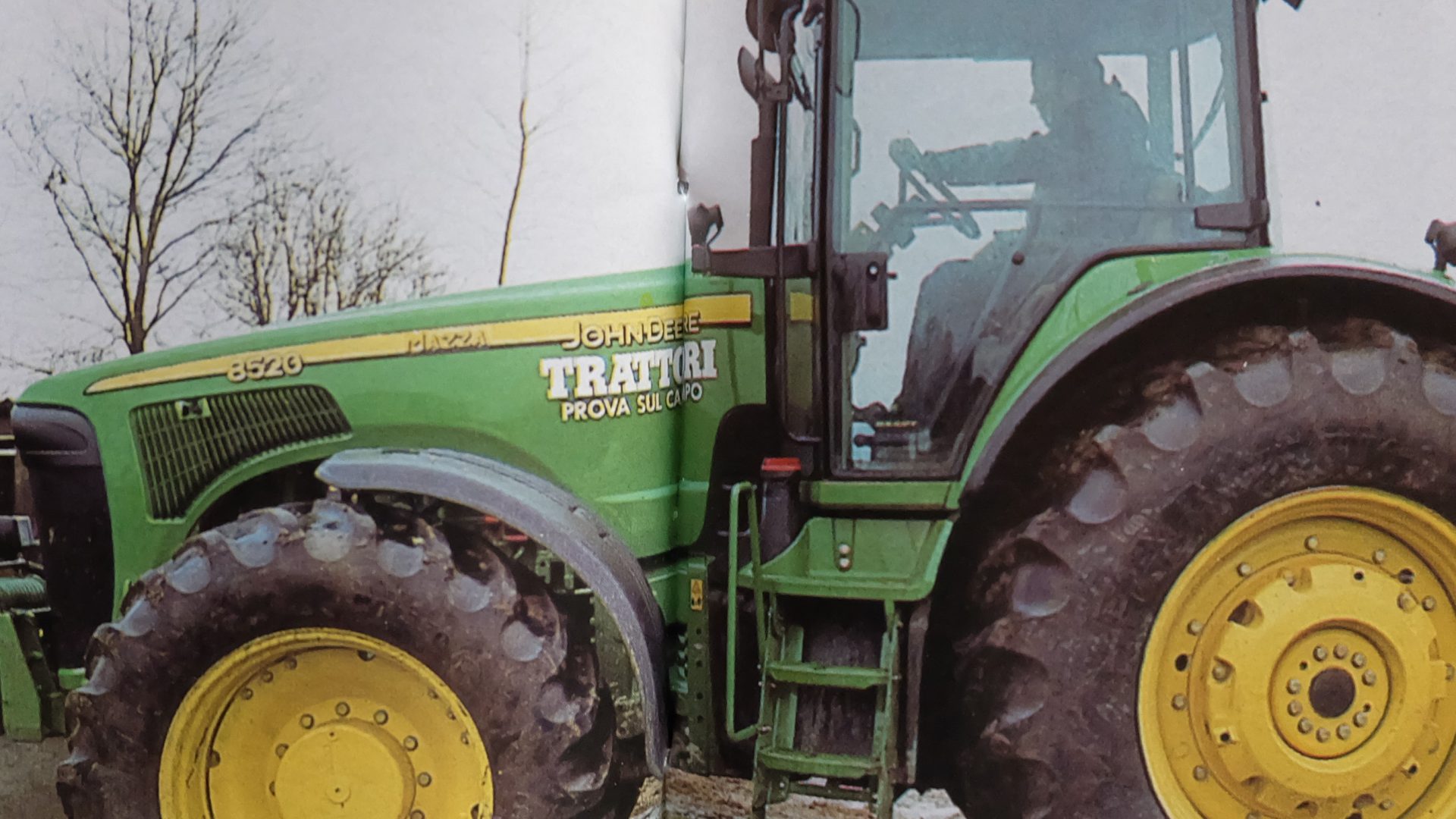 Di grande aiuto nei trasporti e nei trasferimenti era l'inedita sospensione 'ILS' che sull'8520 sostituiva di fatto l'assale anteriore. Al suo posto si trovavano due sospensioni a quadrilatero indipendenti che consentivano alle ruote anteriori di assecondare gli avvallamenti del terreno. Il sistema idraulico a centro chiuso forniva una portata di 160 litri al minuto. Il sollevatore aveva una capacità di 11mila kg alle rotule ed è disponibile a richiesta anche il gruppo anteriore che sollevava 5.200 kg. I distributori supplementari erano 4 a comando e impostazione elettroidraulica, attivati da comodi pulsanti sul bracciolo.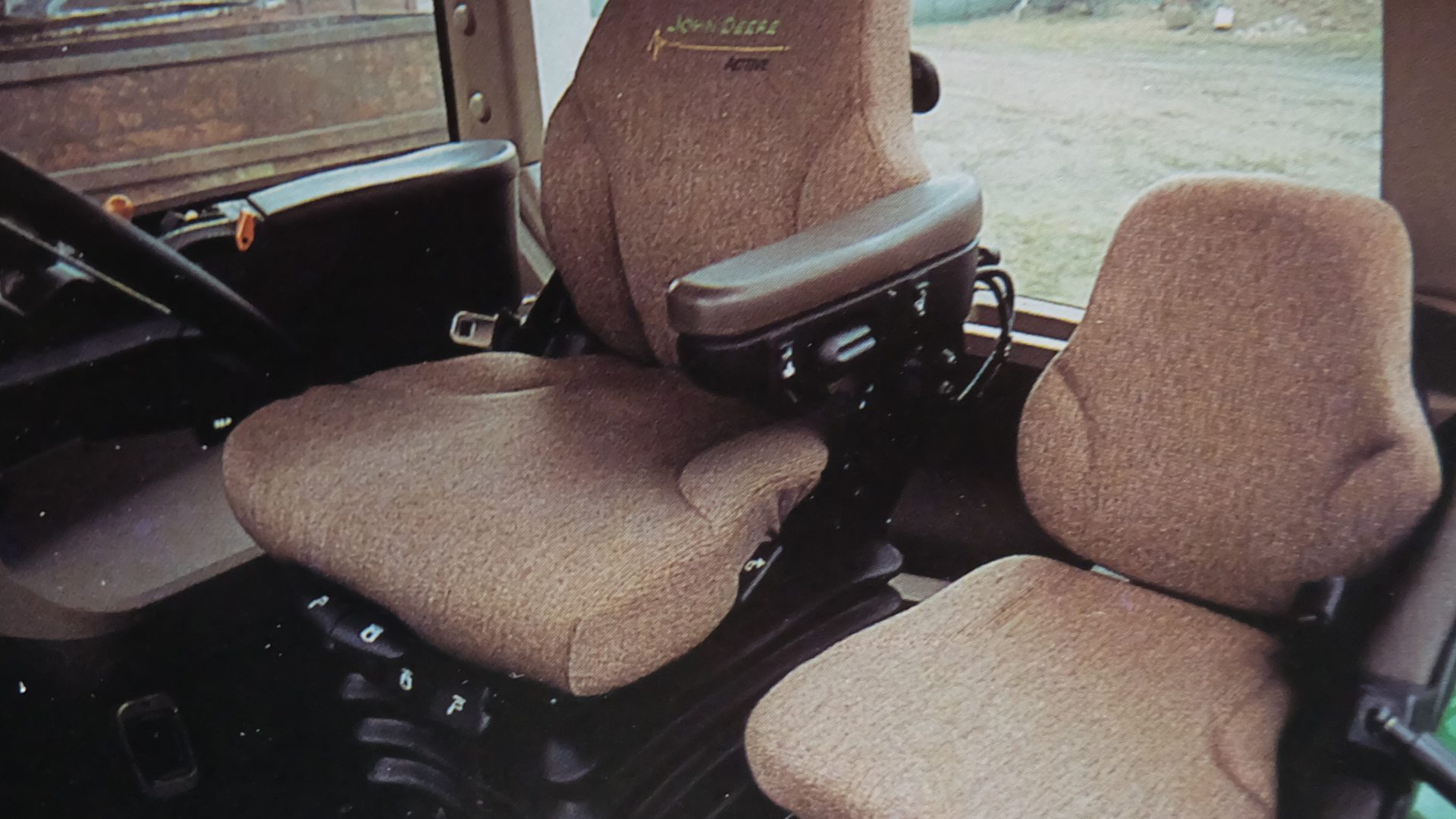 La cabina. Trono imperiale, con comfort senza pari
L'accesso alla cabina, la 'Command View', avveniva soltanto dalla parte sinistra, come da tradizione americana, anche se gli europei magari avrebbero gradito salire da ambedue i lati. In ogni caso l'accesso era comodo attraverso la scaletta protetta e dotata di mancorrente. La portiera era dotata di ampia apertura e il pavimento cabina era piano. Il sedile era a sospensione attiva, ed era dotato di un sensore che percepiva in tempo reale urti e scossoni ed è in grado di ammortizzare fino al 90% le sollecitazioni verticali.