New Holland T4 F/N/V, la svolta digitale dei nuovi trattori specializzati
Il produttore, parte di CNH Industrial, rinnova la serie di specializzati T4 F/N/V all'insegna di tecnologia e comfort. Nella nuova cabina 'Vision Cab' regna il silenzio e debutta la strumentazione digitale InfoView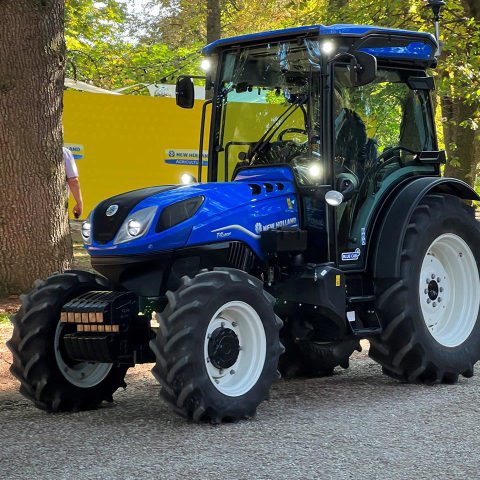 Sono stati tra i protagonisti dello stand New Holland all'ultima edizione di Eima e non a caso il loro modello di punta T4.120 F si è aggiudicato il titolo di Tractor of the Year 2023 nella categoria Best of Specialized. Si tratta della nuova versione degli specializzati New Holland T4 F/N/V, che già erano stati rinnovati nel 2021 adottando le nuove motorizzazioni Stage V, e ora fanno un ulteriore passo in avanti all'insegna del comfort, dell'operatività e delle soluzioni digitali col debutto della rivoluzionaria cabina VisionView.
Proprio la cabina è stata un fattore chiave per la vittoria finale al Tractor of the Year con la giuria che tra le motivazioni del premio citava: «… la cabina standard a pianale piatto, il livello di rumorosità più basso del segmento, lo schermo VIS delle gamme superiori e l'architettura elettronica pronta per recepire telematica, funzionalità avanzate e guida automatica».
New Holland T4, una cabina rivoluzionaria
La struttura della cabina offre in effetti i livelli di comfort di un trattore da campo aperto con il pianale completamente piatto, quattro montanti, il vetro laterale monoblocco e il parabrezza anteriore dal design esteso per ampliare la visuale. Disponibile anche in versione Blue Cab 4 con sistema a doppia filtrazione di categoria 2 e 4, è anche più silenziosa, dato che l'insonorizzazione è stata notevolmente migliorata, e ora il livello fonometrico non va oltre i 71 dB(A), valore che rappresenta un vero record per il segmento. Ma è la strumentazione che ha subito i cambiamenti più radicali, nel segno della digitalizzazione. Più chiaro di così!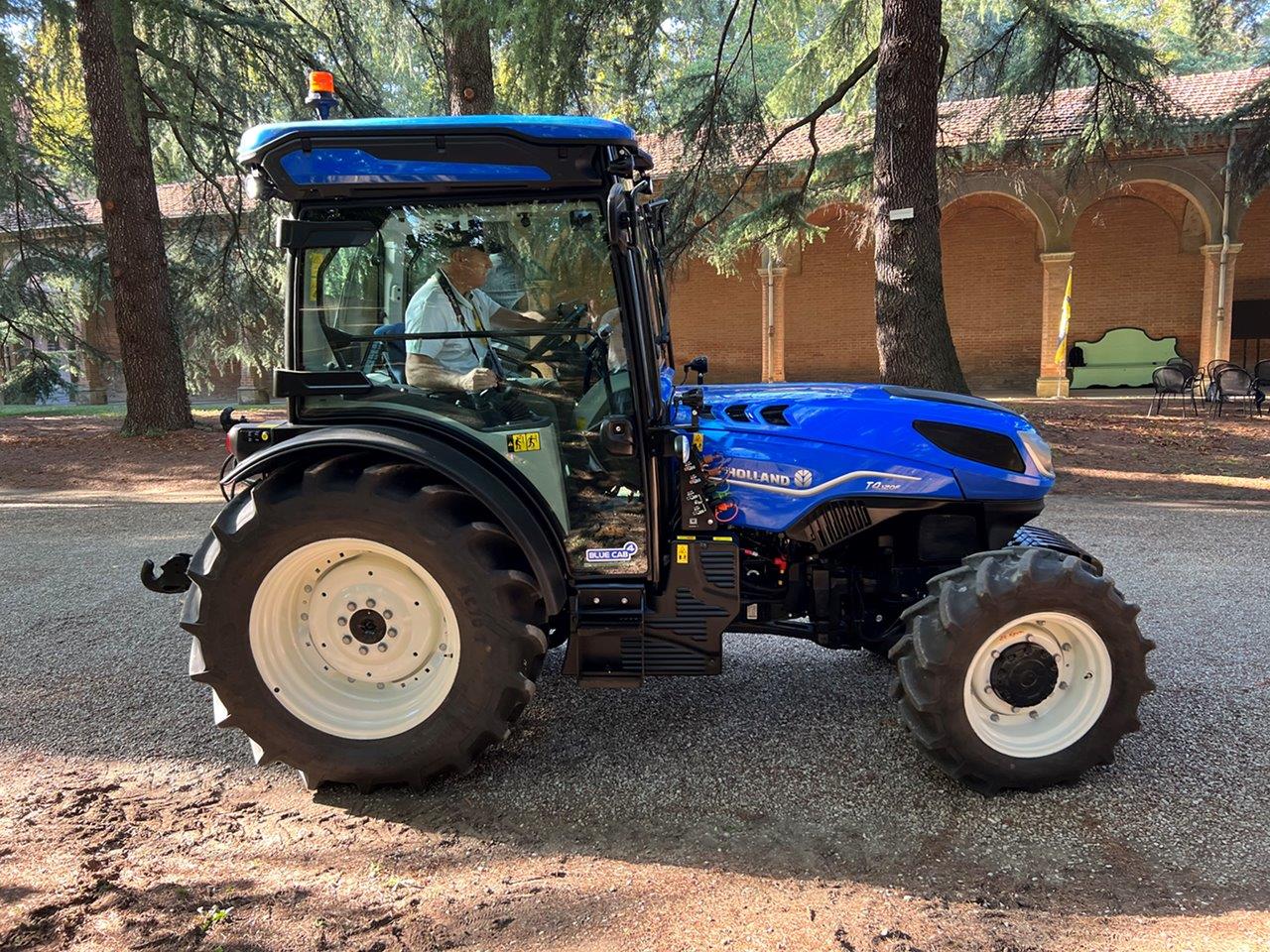 Il classico cruscotto sparisce e viene sostituito, come già visto sui fratelli maggiori T7 e T8, con il quadro strumenti digitale InfoView, un display LCD a schermo piatto posizionato direttamente davanti al volante dal quale è possibile controllare in maniera intutitiva e immediata tutti i parametri operativi e le impostazioni della macchina. Per chi non si accontenta poi l'architettura elettrica dei T4 F/NV è pronta a recepire la telematica, le funzionalità avanzate di precision farming e la guida automatica. Anche la disposizione dei comandi è stata ottimizzata, e sulla destra la console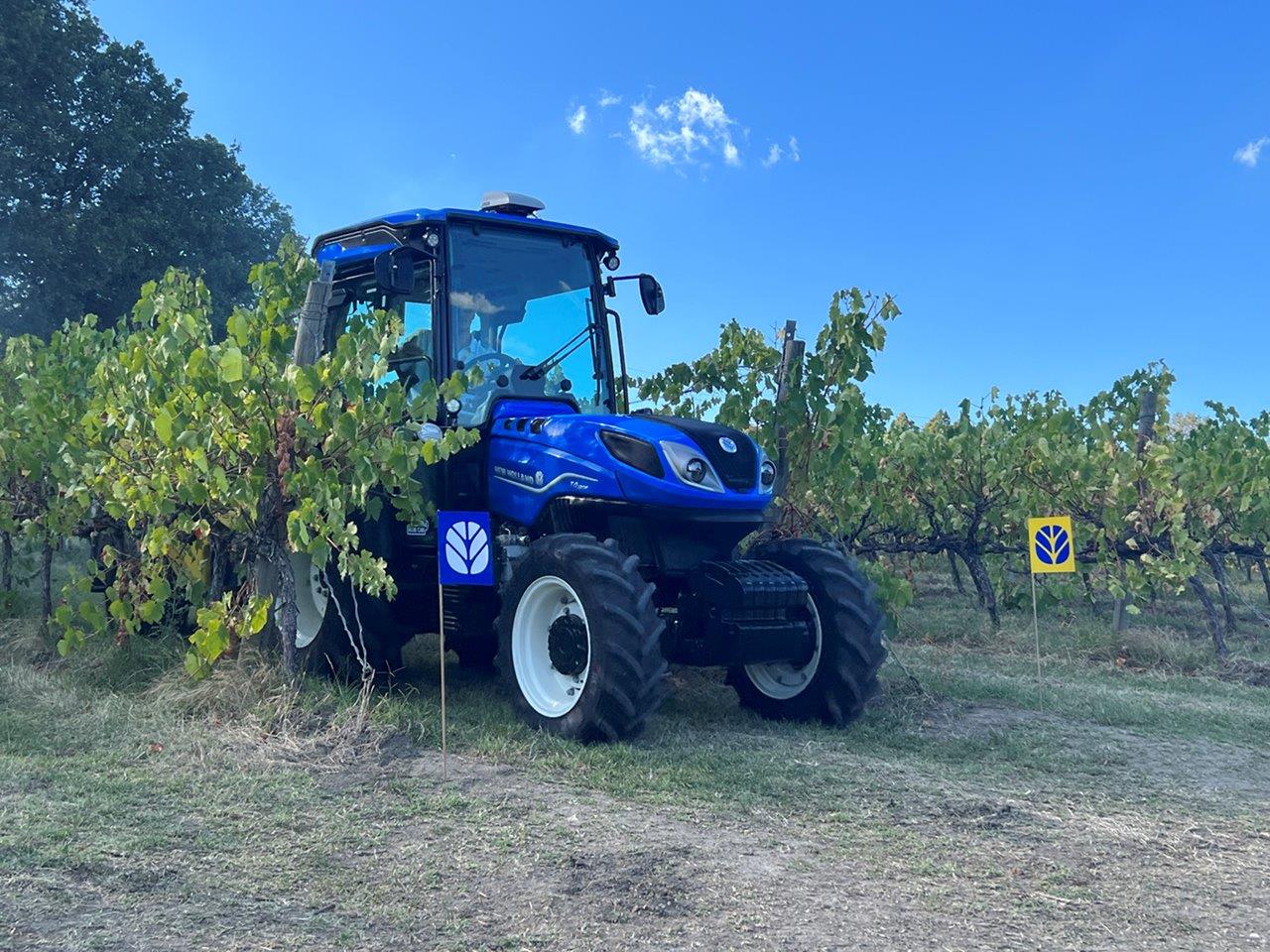 Command Arc ospita tutti i comandi principali azionabili dall'operatore in modo rapido e intuitivo. Le nuove funzionalità avanzate includono una nuova posizione ergonomica della leva del cambio, un nuovo sistema di innesto del superriduttore a pulsante e l'impostazione della reattività del Powershuttle. L'inver-sore e la PdP sono ora dotati di impostazione dell'aggressività in modo da ottenere la regolazione ideale per ogni applicazione.
Tra gli optional, una nuova funzione di blocco di stazionamento (Park Lock) sulle trasmissioni Powershuttle e sulle versioni Dual Command. Ogni operatore può comunque trovare la sua versione ideale potendo optare tra ben sei versioni diverse di trasmissioni, da quella completamente meccanica fino alla Dual Command con Hi- Lo e inversore elettroidraulici, tutte comunque con velocità massima di trasferimento di 40 chilometri orari.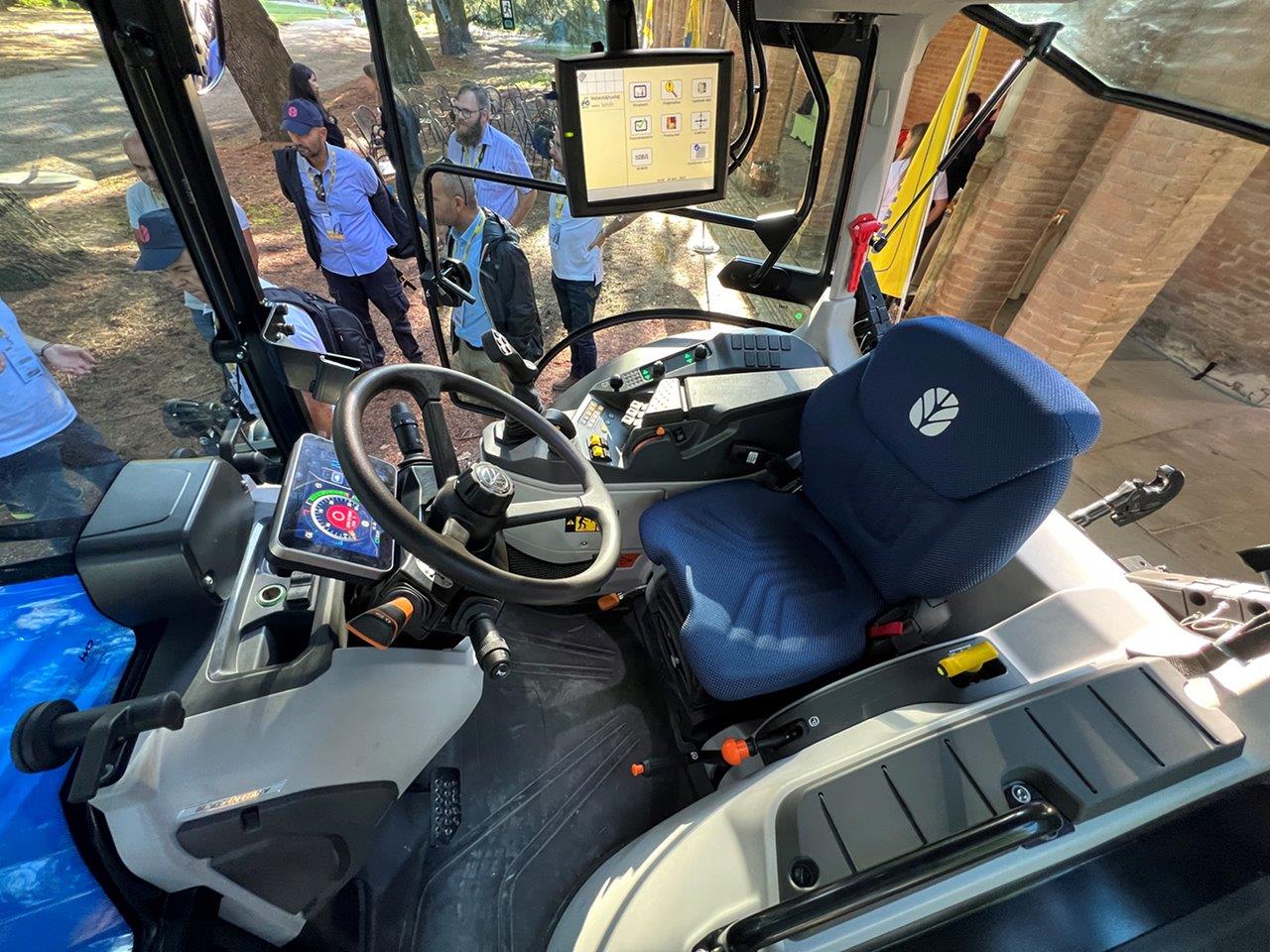 Sotto al cofano la tradizione FPT
Nell'ultima versione Stage V il motore FPT (da 3,4 litri solo sul modello meno potente, e da 3,6 litri su tutti gli altri) raggiunge la coppia massima già a un regime di 1.300 giri al minuto, mentre la potenza massima si registra a 1.900 giri, 300 al di sotto del valore nominale. Tutti i componenti del sistema di post-trattamento dei gas di scarico sono racchiusi sotto il cofano che nonostante ciò ha un design affusolato e mantiene un'altezza contenuta migliorando ulteriormente la visibilità.

In base alle richieste, i circuiti idraulici sono stati riprogettati in modo da erogare con un'unica pompa fino a 80 l/ min. per i nuovi sollevatori e i distributori idraulici ausiliari. Il sollevatore posteriore è stato completamente riprogettato con 2 cilindri esterni che garantiscono una capacità di sollevamento fino a 2.519 chili sui T4F. Il controllo meccanico dello sforzo con il collaudato sistema Lift-O-Matic è di serie su tutti i modelli mentre il controllo elettronico dello sforzo è disponibile a richiesta. Nuovo anche il sollevatore anteriore, optional, che ha una capacità di sollevamento fino a 1.500 chili ed è compatibile con tutti e tre gli assali disponibili, da quello fisso, a quello sospeso Terraglide, fino all'esclusivo SuperSteer con angolo di sterzata di 76 gradi.